When I met Ray in the middle of 2008, I had been biking and bubbling while riding Critical Mass for over 2 years (pretty much ever since I bought Pinkie for around $450 on July 8, 2006). By then there were a lot of smiling-friendly-familiar faces in the crowd of cyclists I frequently rode with and one of those was Ray. For months he made it a point to say hello and thank me for blowing bubbles at each Critical Mass. But Ray and I may not have become better friends if he hadn't given me a very memorable and thoughtfully sweet gift.
Ray is a very talented, intelligent and creative soul. When he gave me his gift, he told me about how he travels to Ocean Beach from Hayward (at least a 2.5 hour trip by BART/MUNI each way) and collects the often overlooked jade that washes ashore. He then spends hours polishing and transforming their ruff edges into something beautiful and magical. Like the one he created for me. 🙂
When he gave me this jade gift, he explained how he thought it could be used to blow bubbles — and it does! 🙂 He explained the process involved in creating it but was reluctant to tell me exactly how many hours he spent crafting it — I'm guessing a couple dozen over a period of months. He also explained his motivation for giving it to me —— he believes in what I'm doing. I asked, "pffft, what am I doing?" And he responded, I'm "making people happy." I'm "turning a negative into a positive" (meaning Critical Mass was often seen as a negative and I was making it more positive). I "create smiles and joy in children and adults." He could see that my intention was greater than "just frivolously blowing bubbles" and that he felt there was a "deeper purpose in doing what 'I' love, (riding Pinkie and bubbling) and that it "makes a difference." Pretty humbling and a very nice compliment.
As an aside, let me explain that I don't believe I'm changing the world or making a life-changing impact on anyone I bubble past but bubbles tend to make people smile and all those smiles have to be a good thing. 🙂
Here's some more of Ray's incredible jade pieces.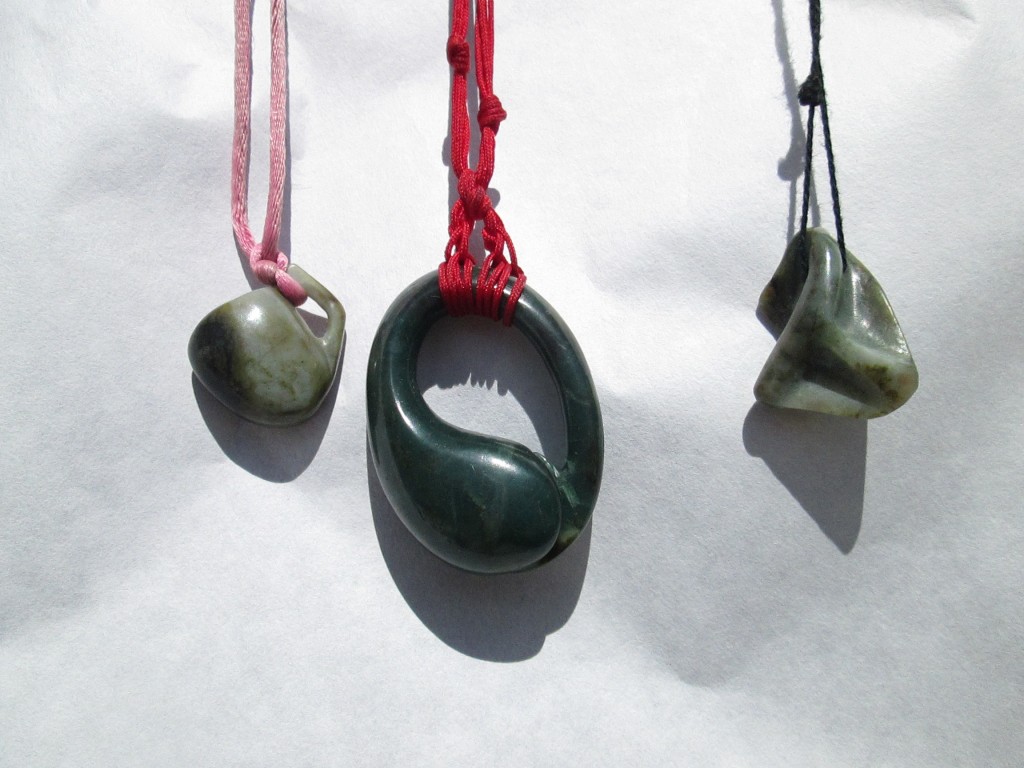 Ray and I began riding with each other frequently after that gift. But his greatest gift to me has been immeasurable —— his friendship, his encouragement and his dedication to the "greater bubble cause." He will often hold my handlebars, when I pause for a break or need to add juice to my machines, so Pinkie doesn't accidentally tip over. (She's a heavy cruiser at 85lbs fully loaded for maximum bubbling activity.) He also frequently carries what I can't manage, like my bubble juice donation box, an extra bubble machine in case one breaks or an extra gallon of juice for big events like Sunday Streets, the Pride Parade, the Carnaval Parade, HowWeird Festival, Bicycle Music Festival, Toure de Fat or Burning Man Decompression where we're out all day and I really do some serious bubbling. In addition, together we've worked on figuring out bubble machine mechanical problems, juice quality issues and understanding how to lengthen the life of rechargeable batteries. We also get to share some wonderfully happy moments, like the squeals and laughter of children dancing in a bubble storm. He's so dedicated and believes in Bubblegirl and Pinkie so deeply that I've given him the nickname, "Pitcrew." He's the whole crew rolled into one! I also fondly call him, RayRay, Rayaferd or Ray of Light… 🙂 He makes Bubblegirl's life a lot easier and Pinkie doesn't worry about scuffing her fenders as much. But, as if all of his help and many talents weren't enough, I would also credit him in part with encouraging me to accept a more conscious appreciation of "why I do what I do" and "why I love it so much" which reveals a bit of the 'Pollyanna" in me —— for wanting to make the world around me, a little bit better, a little bit happier and a little bit bubblier, one bubble at a time. Ray understands that without explanation.
With my deepest gratitude to Ray aka Pitcrew — I dedicate this blog post to you. Thank you.